Features
● Easy to install with various installation modes;
● Detection signal is not affected by the position of the coil;
● Built-in new mechanical 10 times anti-overload protection;
● Minor temperature drift,good Non-linearity and repeatability, small size, little space required for installation;
●Small size, little space required for installation;
● Standard M12*1 plug
Description
XJC-ZL06 series cantilever tension sensor is designed for installation equipment of singleside cantilever roller. It is integrated with cantilever shaft and roller components. This tension sensor can be installed on the inside or outside of the machine wall panel, and no special design required for the roller. Tension can be detected by inserting a spare roller into the cantilever tension detector. It can be used to measure and control the tension of materials during processing, such as paper, label, tape, battery electrode, high performance film and other narrow materials . The sensor's detection signal will not be affected by the position of the coil on the roller.
Technical Parameter
| | | | |
| --- | --- | --- | --- |
| Rated output | 1.0±10%mV/V | Non-linearity | 0.2% F.S. |
| Repeatability | 0.1%F.S. | Zero balance | ±2% F.S. |
| Operating temp range | -20~80°C | Compensated temp range | -10~40°C |
| Temp effect on zero | 0.02%F.S/°C | Insulation | ≥2000MΩ/100VDC |
| Recommended excitation voltage | 5~10VDC | Limit load | 1000%F.S. |
| Cable size | φ5x5m | Protection class | IP65 |
Dimensions

Force calculation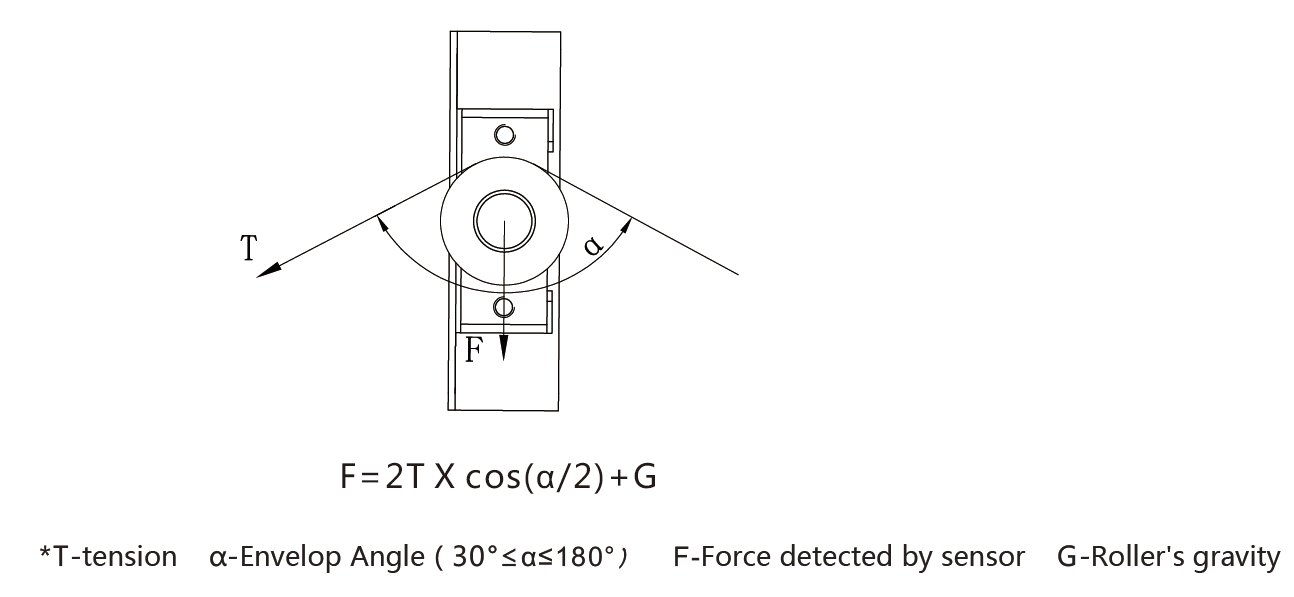 Installation
Two installation methods are as follows:

Note: Insert the sahft and roller components provided by customer into the cantilever tension sensor. Make sure the sensor's housing and the machine wall panel will not be interfered by neither the shaft nor the roller components. The diameter of clearance holes on the machine wall panel should be at least 1.5mm larger than the shaft holes, and then fasten the four screws firmly to the shaft.